Introduction and Overview
Cxoice is an easy-to-use end-to-end survey platform and insight management system for all forms of research or data collection. Create questionnaires for online, off-line or telephone use with no software to download. Once the questionnaire is ready add sample, then publish online, or set the survey for interviewer use with call management, set quotas and monitor the survey live.
Once fieldwork is complete build automated analysis with tabulations or presentation-standard reports. Store and share project documents. Create online reports and training materials. Set up online panels or communities. Create discussion forums and link to video services. Manage access for your team, or for clients using your research. Even publish and sell your reports.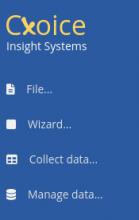 Getting started is very easy. The Cxoice Questionnaire Editor allows you to instantly start writing questionnaires, forms or quizzes from scratch, or use our Questionnaire Editor if you want to start from scratch.
There is no sign-up or log-in is required to get started, just start editing and writing your questionnaire. For small scale scale projects to be carried out face-to-face, you can create a fully functional downloadable HTML questionnaire with no need even to register. Questionnaires are saved locally with your web-browser, or can be saved to a file, and are only uploaded to a server if you register.
If you chose to register, your questionnaire can be uploaded and saved to your own project area where you can publish it for completion online - either via an open survey link, or via IDs and invites only.
Questionnaires can also be used for interviewing, connected to our telephone sample and appointment manager for individual or team use, including as outbound telesales scripts. Interviewer registration, log-in, sample upload and 'blocks', call-monitoring, appointments are all built in for CATI.
Logged-in users, get online space not just for the questionnaire, but also for project materials and documents that can be shared with the team. The amount of space and number of projects depends on your subscription level.

For larger businesses and market research agencies, projects can be set up in permission-protected client areas to allow your clients and colleagues to access and upload documents and to monitor progress live as you require.
Cxoice is modular and grows with your needs. We can provide privately managed server systems with full technical support and customised designs for larger businesses wanting to use Cxoice across multiple projects and teams and not just for surveys, but as full intranet sites for knowledge management and curating and sharing research and other forms of market intelligence and market insight.
The questionnaires and forms that you create can also be turned into fully-functional HTML-Javascript files that can be used for off-line fieldwork for fully server-less surveys. Alternatively, the HTML questionnaires can be added to a website for data collection, for instance for collecting data to build online quotation systems, or personal registrations just needing the HTML-Javascript page and adding a data connector to your website.
To get started build a questionnaire or form with our Questionnaire Editor now.